Eleven Paths is Telefonica's cybersecurity company and a subsidiary of the new holding company, Telefonica Tech. In order to integrate the group's digital capabilities, its aim is to walk customers through the process of digitalization by offering a security management service.
Every year, Eleven Paths holds Security Innovation Days, with the latest edition taking place on October 20-22. This year's event, centered on cybersecurity in the age of digital transformation, saw several leading CISOs and industry experts analyzing issues such as extending the perimeter, threat hunting techniques, and cybersecurity training. Cytomic as a strategic partner of Telefonica, took part with a presentation from Josu Franco, the company's Strategy and Technology Advisor.
In the context of the pandemic_
Franco began with a reflection on the changes in threat innovation. Previously, some 80 percent of this innovation came from cyber attackers, while just 20 percent was brought about by changes in the environment. Today, these percentages have switched, with environmental changes accounting for around 80 percent.
Due to the current pandemic and the consequent boom in telecommuting, many companies have gone overnight from a visible and manageable organization in their physical premises to having as many 'offices' as there are employees. The difference, however, is that the place from which employees are working remotely has nothing like the security of conventional offices. There is now a boom in VPN connections and much more remote access has had to be enabled from personal computers and other devices which in many cases do not have adequate protection in place.
From the point of view of a cyber attacker, this implies that the attack surface has increased exponentially. What's more, the chances of users falling victim to social engineering attacks or ransomware and phishing have also increased. With this in mind, Franco explained that, at Cytomic, we have witnessed an increase in brute force attacks on the RDP ports that organizations have tended to enable.
He also underlined that, according to Gartner, by 2025, more than 85 percent of successful attacks against corporate endpoints will be due to errors in configurations or mistakes by users, rather than through advanced malware. Human nature is the factor that will least evolve and that is why adversaries will continue to use techniques based on deception. Given this trend, the assumption is that endpoints will be increasingly protected, even natively through the operating system itself.
Adapting cybersecurity_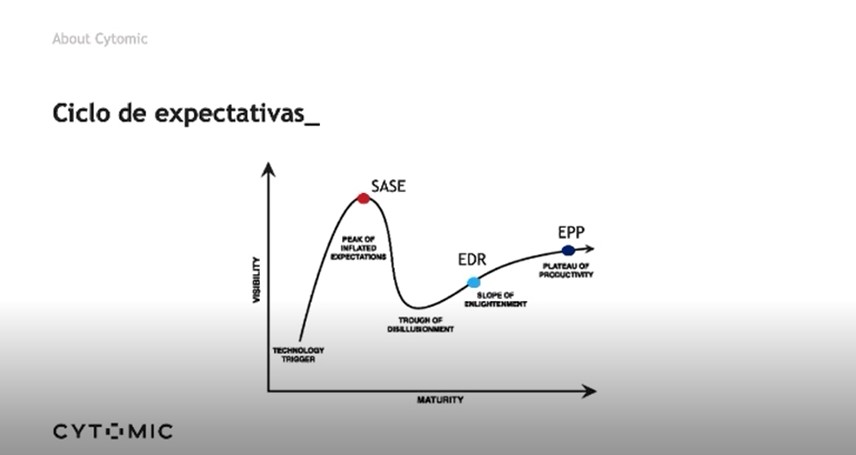 New approaches and architectures have emerged in the industry such as SASE (Secure Access Service Edge), which consists of delivering all security services from the cloud. There is also the Zero Trust or XDR approach, which we discussed recently in the blog. In any event, Franco believes that this type of focus is still emerging and will take time to establish itself. That's why at Cytomic we consider that in the current crisis, organizations are best served by tactical and effective cybersecurity measures.
Endpoint protection_
Everything necessarily starts with effective protection of endpoints, no matter where they are or how they connect to the network. This particularly includes computers and devices in homes that are hooking up to an organization's systems.
At Cytomic, we offer a proven and scalable approach that reaches all endpoints. This approach is based on:
Centralized, remote management and visibility of all endpoints regardless of where they are.
Zero Trust Application Service as a preventive model that classifies 100% of all binaries executed on a network, without trusting by default any program or application.
Threat Hunting Service based on complete telemetry from endpoints and which enables the investigation and remediation of malwareless attacks and intrusions. To achieve this, we integrate proprietary and third-party intelligence.
Cytomic, in short, delivers proven solutions for highly distributed environments, for all type of organizations, and with the highest possible levels of prevention.