Cytomic, unit of Panda Security, announces that its advanced endpoint cybersecurity solution Cytomic EPDR has been awarded the Gold certification by OPSWAT in its Anti-malware category.
The aim of OPSWAT is to become a compliance and prevention standard necessary to for the digital world to be safe, immune to malware and protected against cyberattacks.  The OPSWAT certification program certifies endpoint security applications' compatibility with access control and zero-trust solutions. Over 100 endpoint security application providers participate in the OPSWAT certification: OPSWAT OEM clients, including industry leading NAC, CASB, SSO, and SSL-VPN solutions from vendors such as Citrix, Pulse Secure, IBM, and Dell.
Today, more than 100 million devices are protected with access control solutions and zero-trust providers that are based on OPSWAT's certification to determine whether those devices are running trusted endpoint security applications.
The Gold Anti-malware Certification obtained by Cytomic demonstrates that Cytomic EPDR is compatible with access systems that use OPSWAT.
Cytomic: leading provider of next-generation endpoint security_
 OPSWAT recognized Cytomic as certified Anti-malware once it had successfully passed the rigorous criteria set and periodically reviewed by OPSWAT. Thus, Cytomic stands as the leading European manufacturer of EDR systems, and now has OPSWAT's distinctive insignia as a certified provider, demonstrating that its applications are powerful, reliable, and efficient.
 Cristina Stet, Certification Manager at OPSWAT, states that "Cytomic EPDR is helping to pave the way for endpoint security, including antivirus and EDR. We are delighted to award the GOLD certification for compatibility with industry leading NAC, CASB, SSO and SSL-VPN solutions."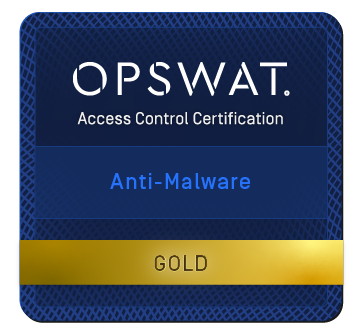 Cytomic EPDR is Cytomic's most advanced cybersecurity solution, and includes the Zero-Trust Application Service. The service automatically implements a disruptive security model based on monitoring, registering, and classifying every process on the assets on the corporate network, stopping anything that has not been classified as trustworthy. This model, Cytomic's solution, and its Zero-Trust Application service are advanced security market leaders in terms of efficiency and low TCO.
Products that receive the OPSWAT Gold certification, such as Cytomic EPDR, are highly compatible with industry leading NAC and SSL-VPN SOLUTIONS, such as Citrix Access Gateway, Juniper Host Checker, F5 FirePass, and others. Gold certified products can be detected by these tech solutions, and some remediation and evaluation actions are supported.
"We are highly satisfied with this OPSWAT certification; it reinforces Cytomic's position as a cutting-edge solution for corporate endpoints, which require the highest guarantees when it comes to allowing network and ensuring that endpoints have state-of-the-art protection," says María Campos, VP of Cytomic.
Advantages of EDR protections_
Cytomic's Endpoint Detection and Response (EDR) systems complement and expand the advanced functionality of our antivirus protection.
Our EDR systems, with behavior profiling, registers 100% of active processes in order to detect suspicious behavior. Granular statistics are provided for each executable, such as reputation/popularity, when it was first seen, on how many computers it was seen/run, how many file operations/network connections were established, what modifications it made, and other metadata useful for identifying potentially suspicious behavior in any executable. Given that out EDR registers absolutely everything that happens on every computer, it is able to check whether machines, applications, or even users are behaving improperly.
Additionally, Cytomic EPDR offers security teams:
Full visibility of the actions carried out by bad actors.
No impact on servers and devices since the agent is lightweight and its architecture is cloud-based.
Detection of abnormal endpoint behaviors (IOAs) blocking the attacker.
Mass remote containment of endpoints from the console, including isolating or restarting computers.
OPSWAT recommends that all security application providers find out more about the OPSWAT certification program and that they certify the latest versions of their products before launching them. Additionally, IT administrators can use the list of OPSWAT certified security applications as a resource before purchasing a security solution.
About Cytomic
Cytomic is the business unit of Panda Security specialized in addressing and resolving security problems in organizations that have greater cybersecurity demands and maturity.
Cytomic was born with the aim of redefining business cybersecurity to keep its clients free from threats, minimizing risk in corporate environments and reinforcing the security of their devices, their data, and their staff. We are committed to providing the visibility, privacy, intelligence, security and control that our clients need to be able to confidently and efficiently manage risks and actively defend against present and future threats.
This is why we believe that we must lead the disruptive advance of technology in order to offer the most innovative, precise and specialized solutions, services and tools for the most complex and mature business environments.
About OPSWAT
OPSWAT is a global cyber security company providing solutions for enterprises since 2002 to identify, detect, and remediate advanced security threats from data and devices coming into and out of their networks. Trusted by over 1,000 organizations worldwide for this secure data flow, OPSWAT prevents advanced security threats across multiple channels of file transfer and data flow with flexible options of MetaDefender solutions and API-based development and threat intelligence platforms. With over 30 anti-malware engines, 100+ data sanitization engines, and more than 25 technology integration partners, OPSWAT is a pioneer and leader in data sanitization (Content Disarm and Reconstruction), vulnerability detection, multi-scanning, device compliance, and cloud access control. To learn more about OPSWAT, please visit www.OPSWAT.com.