Compatibility with macOS Monterey and Cytomic EPDR
The latest protection versions of Cytomic EPDR for MacOS are compatible with MacOS Monterey. However, installing the client software for the first time and upgrading from Mojave or earlier versions of the operating system do require user intervention.
Installing the client software on macOS Monterey
When you try to install the client software for the first time on macOS Monterey computer, the following error is shown at the endpoint: The disk image is damaged.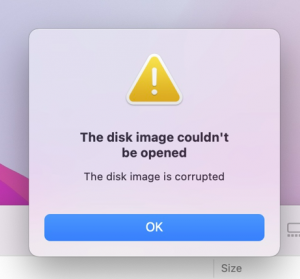 To fix it, you need to mount the installation file manually.
IMPORTANT! The instructions you are about to follow are valid for macOS protection v2.00.10. Before you begin, you need to ensure that this the version available from your Cytomic administration console. To do so, open the administration console, select the cog icon

, and select About.
If you do not have that version, contact your Sales Representative or Technical Support.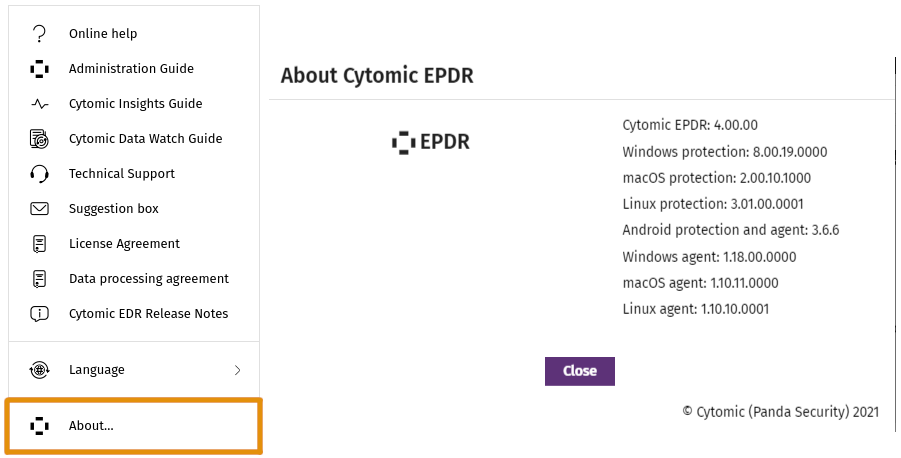 Steps to install on macOS Monterey
Go to the Computers tab, select the Add computers button, select the macOS option and follow the wizard through.
For more information, see Installation of the client software on Windows, Linux, macOS and Android article.

Go to the endpoint to protect and run the DMG installation file. At this point, error message The disk image is damaged is shown.
Open Terminal application and type in a command with this format: hdiutil attach filename.dmg
For example, if you haven't renamed the installation file and you have saved it in the Downloads folder, you need to type in:hdiutil attach Downloads/Cytomic\ Endpoint\ Agent.dmg

Go to Finder, choose Go , select Go to folder and access this folder:/Volumes/CYTOMIC ENDPOINT AGENT INSTALLER
Follow the installation wizard through.
Upgrading the client software on Monterey
The upgrade process on Monterey only requires your intervention if you are upgrading the client software protection version from a computer with Mojave or earlier versions of the operating system. In this case, after you upgrade the protection, you will be prompted to enable the System Extension / Full Disk Access permissions. For more information, see Permissions required to enable the protection for macOS article.
NOTE: In protection version v2.00.08, Monterey computers will be shown as MacOS 12.0 Big Sur from the Cytomic administration console. We recommend that you update your Cytomic version through your Sales Representative or through Technical Support.